Last night, the most watched television broadcast brought millions of people to their television. While many kept their eyes peeled to the scoreboard, the halftime show spurred most of conversation on social media.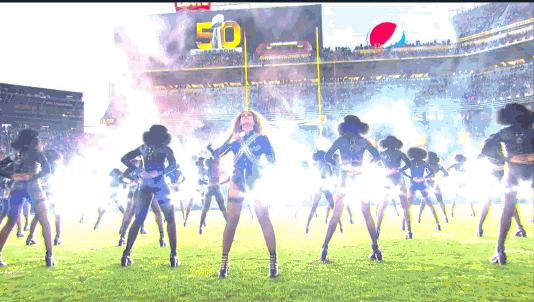 Although Coldplay was supposed to be the headlining act, it was Beyoncé who made headlining news across the nation. Queen B released a new single and music video titled "Formation" the day before she took the country's largest stage. The 34-year-old singer performed her new song, dancing in high heels on turf, and joined Chris Martin and Bruno Mars on stage.
Yet, fans hoped the two would perform together. We thought the two superstars would combine forces, but after controversy due to cultural/racial opinions in "Hymn for the Weekend."
After the performance, a commercial aired announcing the launch of her Formation World Tour on April 27th. Hours later, she releases a clothing line to go with the song. 
Beyonce's performance not only captured America's hearts, but it also spurred talks about larger issues such as racism. Even though Coldplay was meant to be the headlining act, she took most of the conversation on social media and covered headlines from top-tier outlets. So who really won the Super Bowl? Definitely not Chris Martin.
What are your thoughts on Bey, the Super Bowl and the halftime show?